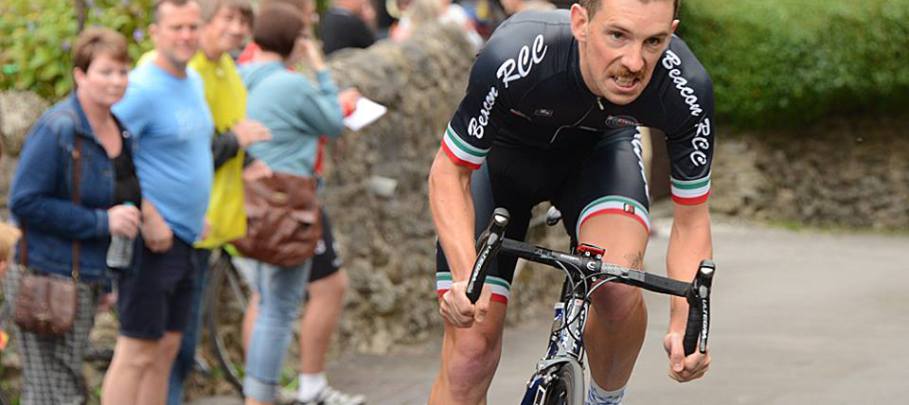 Hill-climb season traditionally marks the end of the racing season for British club cyclists. This is reflected in the Beacon's online photo archive, which includes images of the club's annual hill-climb championship, as well as open and national events from the 1950s through to the 1970s. Beacon riders Rod Goodfellow, Colin Purdy and Dave Sinor at the famous Bec CC Hill Climb, 1972.
In recent years, the discipline has been undergoing a bit of a revival, and this has been reflected in growing interest amongst Beacon members in taking part in open events. Richard Bussell was a big part of this when he set a new record time in the club's annual hill-climb championship in September 2014, going under three minutes on a course where such times were unheard of. After subsequently signing for AeroCoach, Richard went on to win a national title in 2015. In 2016, Beacon members John Hunt and Jessica Rhodes-Jones both took on the National Championships in Matlock.
This season, John was targetting hill climbs again, and he was joined by Dave McCann in travelling around the country in search of steep gradients.
Dave did particularly well in local club events, placing 2nd in Bromsgrove Olympique CC's event on KH12 in late August, before winning the Beacon club championship on the same course on 17 September. He also took 2nd in the Redditch RPCC event held on the KH11 on 12 September. In open events, Dave's best finish was 8th in Matlock CC's event on the AHC/9 course back in June. He also had top-20 finishes in the Worcester St Johns CC and Wyre Forest CRC event at Shelsley Walsh and Watford Velo Sport's on Whiteleaf Hill in the Chilterns, both in October.
It was Dave's other two open events that he says provided his highlight and lowlight of the season, though: "My high point has to be pelting up The Rake through a tunnel of rowdy spectators with a PA system loudly reminding me I was out of gears. Low point has to be unshipping my chain on the Oxford University hill climb (my last of the season) and having to stop for 40 seconds to put it back on".
John's best results came at the National Championships on Hedley Hill in Northumberland on 29 October (highlights video below), where he averaged over 430 watts for 4 minutes 33 seconds to finish 41st, 6th at the Oxford University event the week before, where he beat former national champion Tejvan Pettinger, 7th at Shelsley Walsh (next year's Nationals course), 7th at Haytor Valeon Dartmoor and 13th at Mam Nick in the Peak District, both in late September. John's personal highlight was racing in the Nationals again, and his lowlight "seeing my minute man (Dan Evans) coming back down the Porlock Hill Climb course as I was still a long way from the summit!".
Jess rode fewer hill climbs this year, focusing instead on winning the UCI Gran Fondo World Series time trial, but she nonetheless got on the podium in Rutland CC's event at Mam Nick, where she finished 2nd woman behind Rebecca Goodson, the winner of the previous week's prestigious Monsal Head hill climb. She also took the women's title at the Beacon club championships. Beacon riders at the British Schools Cycling Association West Midlands Hill Climb Championship.
A number of other riders also had successful single-appearance seasons. Mark Patton was 2nd in Royal Sutton CC's club event on the KH32 course at Maxstoke on 15 August, and last but not least, a good number of the Beacon Academy riders turned out for the British Schools Cycling Association West Midlands Hill Climb Championship in June, where more than half of the 16 entrants were Beacon riders! There were decent times all round, and Joseph Egan won his age category. Academy rider Toby Hale also rode the club championships later in the year, winning the junior trophy.
If hill climbs sound like something you'd like to try, do let Jess, who is the club's time trial captain, John or Dave know, and they'll be keen to tell you more and perhaps co-ordinate race entries for the 2018 season.