The Beacon Mountain Time Trial was first run in 1948. The young group of cyclists who had formed the club in 1946 took little time to hatch the notion of a seriously testing time trial. Using Clee Hill and a selection of other climbs that scramble out of the Worcestershire Teme valley, they devised a highly demanding 62-mile course.

The Beacon Mountain Time Trial was soon established as one of the classic tests of stamina, speed and skill. Olympic medallist Bob Maitland was the fitting first winner and he took the honours for the first three years. 100-mile legend Ray Booty claimed the trophy in 1961 when Beryl Burton broke the 10-mile competition record in the accompanying Ladies 10-mile event. The 1963 event was won by Graham Webb who went on to become the World Amateur Road Race Champion in 1967. The course was shortened to 39.5 miles in the 1960s but still retains the challenging climbs of Stanford Bank and Ankerdine. The Beacon's own Steve Jones was the victor in 1991, after which Stuart Dangerfield dominated at the top of the result board for a decade.
Historic Film Footage
The following film was produced by Charles White, combining cine film shot at the 1961 Beacon RCC Mountain Time Trial and analogue video recorded at the 50th anniversary event in 1996, with added commentary by David Duffield and Tony Webb.
Beacon RCC Mountain TT 1961 & 1996 from Beacon RCC on Vimeo
Jack Clements: Who Was He?
Jack Clements was the longest-serving president of the Beacon RCC, and is remembered with much affection. The Mountain Time Trial, with which he was long associated, was renamed in his honour and as a tribute to his many years of service. The club also provided and maintains 'Jack's Bench' which can be found in Stanford-on-Teme churchyard. The bench still overlooks the current Little Mountain course so that all riders taking part in the race today ride past it. It stands in a beautiful place much loved by Jack himself.
John Banks Clements (always known as 'Jack') was an Irishman. Born in Wicklow in 1917, the son of a comfortably affluent Protestant family, Jack moved to England in 1938. Amongst his luggage he carried the gentle Irish accent which stayed with him for the rest of his life.
His first occupation in England was as a government appointed inspector, ensuring that aircraft were being supplied to the RAF in airworthy condition. Important though this work was, it clearly didn't take up all of his waking hours as he managed to find time to court Jeanne (whom he married in 1943) and to maintain a racing career which had begun in his native Ireland.
The war over, Jack moved into the cycle trade, opening shops in Wolverhampton and Walsall. However, through no fault of his own, this venture was not successful and another source of income had to be found. So, in the early 1950s Jack went to work for Dawes Cycles in Tyesley. His immense charm made him a natural salesman and he was to stay with the firm until his retirement, moving through the sales team to become manager and the man responsible for all trade shows. He also ran the Dawes Professional Racing Team.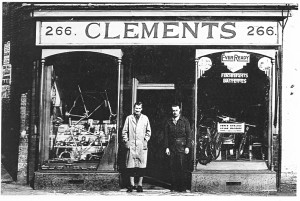 Meanwhile, his own cycling career continued and he joined the fledgling Beacon Roads CC in the late 1940s and became the club's second president in 1947. This position he held, being re-elected annually, until being made Life President a few years before his untimely death in 1987. Amongst his club activities, he was chairman of the Birmingham Division of the BCF, a commissaire and a track judge. With his wife Jeanne he was also a busy RTTC and RRA timekeeper.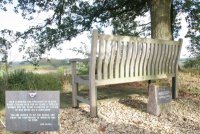 Jack Clements' relationship was not that of a remote, titular president. Rather, he regarded the membership as an extended family and urged the rest of us to do the same. His door was always open and he was a fount of thoughtful, quietly considered advice to anyone who sought it. His steady guidance at meetings steered the club through many difficult times.
Historic Press Cuttings