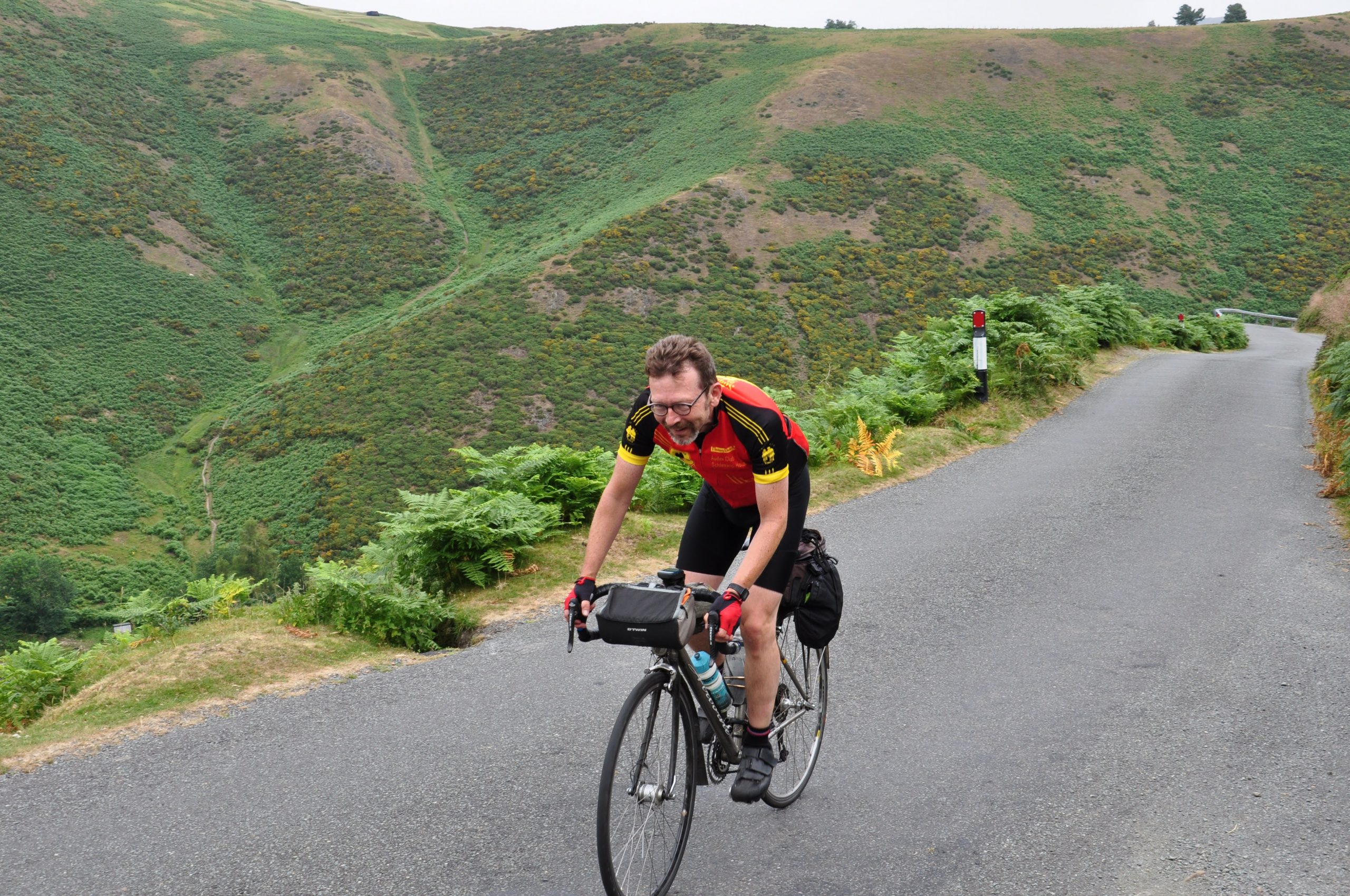 THE ELENYDD
Distance: 305km
Climbing: 4,750m
Audax Altitude Award Points: 4.75
Controls: Hartlebury, Presteigne, Llanwrytd Wells, Tregaron, Rhayader, Ludlow. Riders may start at any control except Tregaron.
The Elenydd is a classic audax route originally developed by audax legend, the late Dave Pountney of Kidderminster CTC who operated it as as a very popular calendar event for 27 years It currently operates as a calendar event run by Mark Rigby at the end of April and details can be found on the AUK website.
The Elenydd or Cambrian Mountains have been called "The empty heart of Wales". It is certainly the remotest, least populated, wildest area of Wales and southern Britain. A network of narrow, single-track roads cross this wilderness. We know the roads well and invite you to enter this sublime audax permanent route.  You'll explore the Devil's Staircase, 'Telephone Box Hill' and the Mountain Road through Cwymystwyth. All in addition to the relaxing pastoral landscapes of the rural Marches and Teme Valley.
Control locations, where you obtain your proofs-of-passage, are all in quintessential market towns, so typical to this part of Britain.
E Brevet, GPX and completed brevet cards are accepted as evidence of proof of passage.
MONTGOMERY MADNESS
Distance: 205km
Climbing: 3,450m
Audax Altitude Award Points: 3.5
Controls: Bewdley, Bromyard, Ludlow, Knighton, Montgomery & Bridgnorth. Riders may start at any control.
The Montgomery Madness is a challenging but rewarding route through the west of Worcestershire, Shropshire Marches and a small bit of Powys. Enjoy the rural roads through the quiet part of the country. The countryside is varied from the rolling pastoral landscape of Worcestershire to the fell roads crossing Stiperstones and the Long Mynd. This challenging route includes approximately 3450m of climbing crossing the Bromyard Downs, Mortimer's Forest, Kerry Ridgeway, Weston Bank, Stiperstones, Long Mynd and Wenlock Edge amongst others. Shops, cafes and ATMs are available as controls. The route can be started in Bewdley, at any other control point, or in Church Stretton.
There are plenty of cafes to consume cake on-route, along with shops and banks where receipts as proof-of-passage can be obtained.
E Brevet, GPX and completed brevet cards are accepted as evidence of proof of passage.
This is a route best ridden in spring or summer as the lanes can get muddy.
COMPLETING A PERMANENT AUDAX
Entering
Permanent audaxes should be entered at least 4 weeks before you intend to ride though in practice it is usually within a few days but just remember that the organiser may be away. Your brevet card and route sheet will be sent to you by post.
Before you ride, you must notify the organiser when you intend to ride the event for insurance purposes. An e-mail or recorded phone message is sufficient.
During the ride
Collect evidence for your brevet card to ensure that it is validated. Evidence of passage can include:
Car park voucher (for the start)
Collect till receipts from shops, cafes, pubs or garages (receipts for petrol will lead to disqualification)
Ensure that the receipt indicates the venue name, date and time
Use banks, some garages and hotels or most post offices' over-the-counter services for an ATM receipt
On the Montgomery Madness, we accept digital photographs of your bike leaning against some suitable landmark and e-mail this to the organiser when you return home
On the Montgomery Madness, we are also able to accept a GPX track file.
With the exception of Tregaron or Montgomery, it is possible to obtain receipts from 24 hour facilities.  Tregaron and Montgomery have pubs, cafes and Spar shops with lengthy opening hours, so it is best time your passages through these location during opening hours.
After the ride
Attach the evidence of passage to your brevet card and return it to the organiser within 48 hours. Make sure that the receipts are securely attached to your card and identified by number, with a corresponding number in the card control box. Remember to complete and sign the rear of the card.