Beacon Academy Easter and summer 2019 events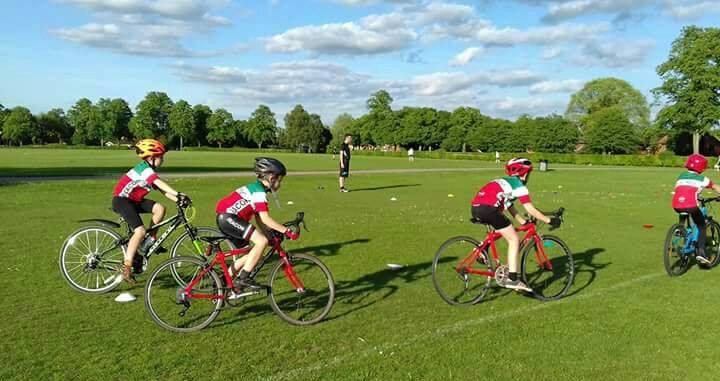 The Beacon Cycling Academy, the club's youth coaching section, are putting on a number of events this Easter and summer. Event pages for two coaching sessions at Holders Lane and a number of races at Rowheath and Holders Lane are available on Facebook via the links below.
Easter 2019 Holders Lane dates:
1 Tuesday 23 April 12:00-13:00
2 Wednesday 24 April 12:00-13:00
Summer 2019 Rowheath coaching sessions:
1 Tuesday 14 May 18:15-19:15
2 Tuesday 28 May 18:15-19:15
3 Tuesday 25 June 18:15-19:15
4 Tuesday 2 July 18:15-19:15
5 Thursday 11 July 16:30-17:30
During the summer, the Academy will be offering at least five coaching sessions at Rowheath Playing Fields in Bournville, on 14 May, 28 May, 25 June, 2 July and 11 July. The sessions will last from 18:15-19:15, apart from the 11 July session, which will be 16:30-17:30. Keep your eye on the Facebook feed for details of any additional sessions. These sessions take place in a traffic-free environment and are led by qualified coaches who introduce riders to skills used in different forms of cycle sport and include some racing, with the emphasis very much on fun. Sessions cost £1 for members and are free for first timers (membership costs £10 for the year). If weather conditions are bad, please check the Facebook page for cancellations.
Beacon Academy Go-Ride sessions are aimed at young people who can already ride a bicycle and have sufficient co-ordination to stay safe in a group. Riders should wear a helmet at all times, have a well maintained bicycle, a drink and bring appropriate clothing and gloves.
Racing at Rowheath and Holders Lane:
1 Monday 6 May 14:00-15:00 (grass track racing)
This grass track racing event forms part of the Rowheath Pavilion Community Fun Day. Riders aged five to 12 will compete in fast-paced racing over three laps of a tight grass track circuit. This is a great opportunity for us to promote our club and our sport to the local community. We've got a slot from 14:00 to 15:00 in a full programme of community events. We're looking forward to welcoming riders from other local clubs so all riders can look forward to some friendly competition. The short distance makes it an ideal introduction to racing for the younger riders.
2 Thursday 25 July 16:00-19:00 (British Schools Cycling Association Regional Grass Track Championships)
We're hosting the 2019 British Schools Cycling Association Regional Grass Track Championships at Rowheath. Young riders will compete in an age-specific omnium competition for the coveted regional title, which brings with it a medal and a patch that can be proudly sported on a race jersey (programme here; results here).

3 Tuesday 27 August 13:00-16:00 (summer cyclocross)
The final racing event of the summer sees the return of our popular cross event. This is designed as a pre-season 'give it a try' event so that riders from across our region who are thinking about entering the West Midlands Cyclocross League can see how they get on. Equally, experienced riders will find it a useful way to test out legs and equipment before the season starts in earnest. This year, we've moved the event to Holders Lane so that riders can compete on an exciting course that takes in a range of slopes and surfaces.
Club Track Championships, Halesowen:
Saturday 22 June 13:00-16:00, with a pre-event coaching session starting at 12:00
There will be a full programme of junior races at this year's Beacon RCC Track Championships, held at the outdoor track in Halesowen, as well as a pre-event coaching session.
For more information, see the Academy's webpage and Facebook page.